IsPrepared is bringing together volunteers and the vulnerable to keep communities safe and well during the COVID-19 pandemic.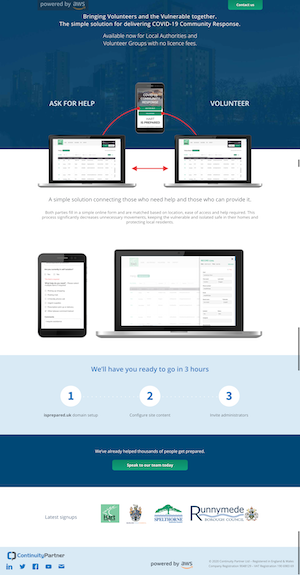 Over 4,000 community groups have sprung up across the country to support those affected by the Coronavirus pandemic. Many volunteer groups are organised via WhatsApp and Facebook groups. Managing thousands of requests for help and volunteer sign-ups on social media platforms is not the solution.
IsPrepared https://isprepared.uk is a simple platform born out of this COVID-19 crisis. It helps Community Response groups deliver reliable and secure services to their local residents. The platform connects those in the community who need help with those who can provide it. Both parties fill in a simple online form and are matched based on location, ease of access and type of help required. 
The IsPrepared platform is offered licence free by leading crisis and risk management firm Continuity Partner Ltd. It can be live in under 3 hours, including a unique 'isprepared.uk' domain, site content, images and colours.
'IsPrepared' platforms are already powering the community response in Surrey Heath, Hart, Marlow, Spelthorne and Runnymede council areas. They are supporting over 500,000 residents, having recruited over 4,000 volunteers and delivered more than 1,500 requests for help.
Matt Hodges-Long, CEO and co-founder of Continuity Partner Ltd, comments: "Risk management and crisis response are what we do for a living. We have been planning for and working on this COVID-19 response for 2 months now. Early on we realised that 'neighbours helping neighbours' would be the only way to make lockdown a sustainable goal. So, we turned our software developers away from their normal work to get IsPrepared built, tested and deployed."
If your local community could do with some help looking after volunteers and the vulnerable, please get in touch at isprepared.uk
For further advice about how to manage your business through the COVID-19 pandemic, take a look at our COVID-19 advice page.
Related Articles